Memorial Lecture in Honor of Prof. Florentino H. Hornedo, Ph.D.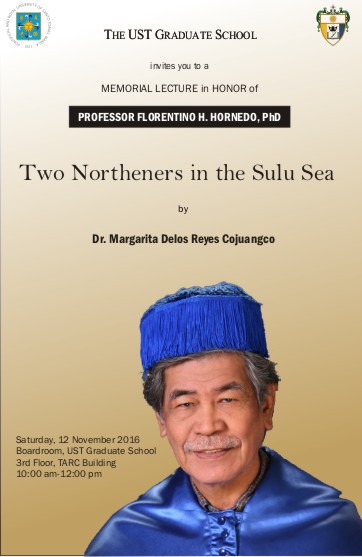 Two Northeners in the Sulu Sea by Dr. Margarita Delos Reyes Cojuangco
This historical journey covers a voyage to Balangingi Islands located in the Sulu Archipelago and the story of its first inhabitants, the Samals, which was Dr. Cojuangco's thesis and dissertation for her degrees in History with Dr. Hornedo as her adviser. It also includes the exile of the Samal Balangingis to Cagayan Valley in the Isabela province after the Samal Boat Ceremony she and Dr. Hornedo encountered in Tawi-Tawi and Zamboanga City, the Diviner of Tabawan from the Celebes Sea, the trip to Languyan supper on a bamboo raft, the Baddak or Borak beauty concoction of South Ubian, Tawi-Tawi and the inauguration of a school building in an MILF territory in Pikit, North Cotabato. To sum it all, the presentation escorts us to the rediscovery of our country's chapters of Pre-Colonial and Spanish Colonial history of the Philippines which are not generally known in this modern generation.
————————————————
Margarita "Tingting" Delos Reyes-Cojuangco finished her master's and doctorate degrees in History  at the University of Santo Tomas. Her technical qualifications include: anthropology with concentration on the Moro-Muslim Regions of Mindanao; ethnographic studies, migration, integration, and acculturation of a people verified by fieldwork; translation of archival materials from Spanish to English; and extraction of history from epics, legends, and myths. She has held various government and non-government positions and is a recipient of two awards such as the St. Antoninus of Florence Award and University of Santo Tomas Outstanding Public Service Award. She has authored ten books, some on the MILF, Moro and Samal History and Public Safety. The most recent of which is Pax Beyond Peace: The Organic Act for the Autonomous Region in Muslim Mindanao (as explained "RA 6734 as amended by RA 9054"). An Instrument for Peace and Development.